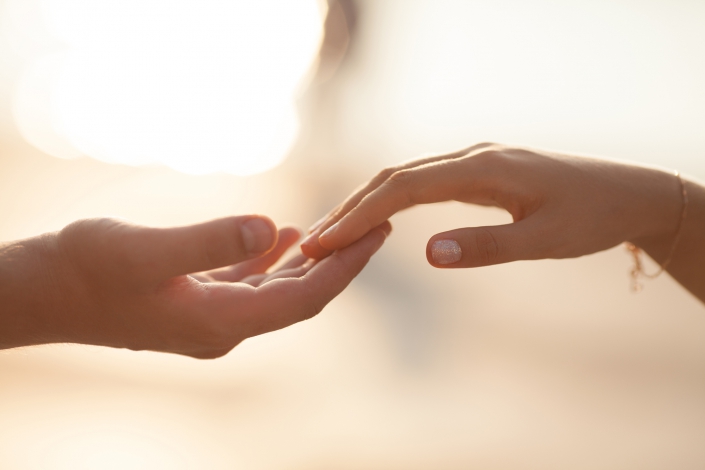 getReal: Discovering Authentic Eroticism
Get Real: Discovering Authentic Eroticism
Autumn 2020 (Date will be announced shortly)

When erotic energy is allowed to flow in an encounter between two people, amazing things can happen - time slows, thoughts subside, the body becomes alive with the pleasure of touch, the heart opens and deep intimacy unfolds. Love starts to flow freely.
So why is this not happening more often? What is stopping us from connecting in a way that is such an essential part of our nature? A big part is our upbringing, our conditioning - all the voices around us and within us that tell us what is allowed and what is forbidden, which feelings are appropriate and which need to be hidden, what sexuality should look like. Many of us develop an unfriendly relationship to our sexuality, to our body. We get lost in expectations - of ourselves, our partners, and of the encounter itself. We are taught to manage all this in our heads, and not to surrender to the innate wisdom of our bodies.
In this intensive 2 day workshop, we will create guided, experiential settings to explore themes such as
feeling and setting our borders, moment to moment
Asking for what we want, and letting go into receiving it
Expressing and accepting ourselves as we are, befriending our expectations, insecurities, and fears
Connecting to our body and listening to its signals
Enjoying giving and receiving sensual touch with presence and attentiveness - and without goals or intentions
Understanding and working with our sexual energies
Allowing intimacy to unfold in our encounters
We use the group settings to learn from, experiment with, and support each other in our journeys.
There will also be short, tantra-inspired insights into how sexual energy flows in individuals and between partners - complemented by exercises involving breathing, body awareness and touch.
Together, Eran and Alexander create a space that is safe, trusting, supportive and down to earth, from which we can leave our comfort zones and try something new. In this spirit, it is fundamental for us that the individual boundaries of each participant are sacred.
Individuals and couples are both warmly welcomed. We will do our best to have a gender balance in the group.
Location: Haus zum Widder, Winterthur, Switzerland
Participants organize food and loding themselves (we are happy to help out)
Workshop times:
Saturday: 9:30 - 20:00
Sunday: 9:30 - 18:00
Workshop leaders: Eran Freiwald, Alexander Orth
Language: German and English
Workshop Cost: 250-350 CHF, based on ability to pay
Early booker discount - 200 CHF for registration before 31.12.2019
Contact email: eran@getreal-bodymind.ch